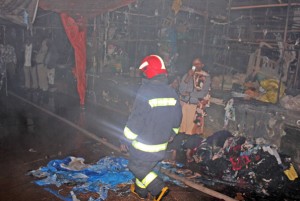 Government has contributed one billion shillings towards the reconstruction of Park Yard market.
This has been revealed by Defence minister Dr. Crispus Kiyonga this afternoon while visiting the vendors affected by the early morning fire.
Kiyonga said that the money is to be distributed to the vendors through the market leadership to avoid any possible fights over the same.
Kiyonga said government would soon meet the leaders of the market to agree on modalities of distributing the money.
Meanwhile former Kampala minister and now security minister Muruuli Mukasa has urged vendors not to lose hope.
The vendors are counting losses after the market was this morning gutted by a fierce fire whose cause is yet to be established.
In a separate development, Park Yard Market vendors have put the Police Chief Gen. Kale Kayihura to task to release reports on the two fires that previously gutted the same market.
Kayihura had visited the venders this afternoon together with the two ministers of defence and security.
In response Gen. Kayihura has assured the venders that preliminary investigations have been concluded and the reports will be out soon.
He says added that police would maintain its presence at the market until the situation returns to normal.