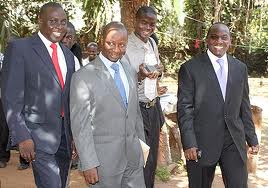 Opposition leaders are calling for speedy trial in cases against them before courts of law.
This follows another adjournment at the Buganda road court.
The charges against the leaders relate to the activists for change activities in Kampala last year.
They include FDC leader, Dr Kiiza Besigye, Jeema president Asuman Basalirwa, MPs Muwanga Kivumbi and Matthias Mpuuga among others.
Today prosecution led by Lilian Omara informed court that investigations into the matter continue prompting the presiding chief magistrate Lilian Bucana to postpone the case further to 11th may this year.
Basalirwa says they have now asked court to dismiss the cases if prosecution continues to derail the process
Meanwhile criminal summons have been issued for Mps Muwanga Kivumbi, Mathius Mpuuga and Kawempe Mayor Mubarak Munyagwa after they failed to turn up today