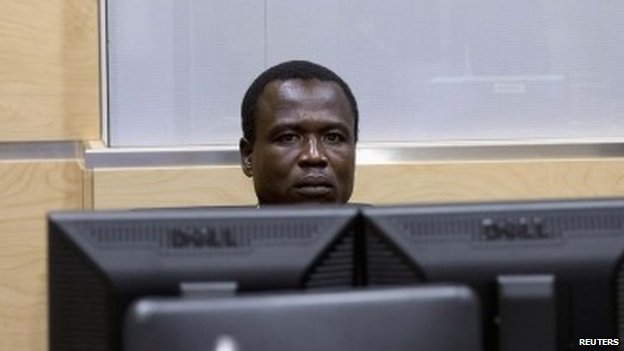 Government has pledged support to the International Criminal Court in trying former LRA commander Dominic Ongwen.
Addressing a news conference at the media center, the Attorney General Peter Nyombi said he has already sent a letter to the registrar of the ICC re-affirming Uganda's commitment.
Nyombi said government does not have any intention to defend Ongwen at the ICC saying the gravity of the LRA crimes were a matter of interest to the international community.
He ruled out any possibility of amnesty to the warlord insisting the trial is solely before the ICC and the president will only forgive him after his trial.
Ongwen's relatives have been appealing to government to grant him amnesty or try him at home.
Nyombi says the Government is to set up a technical committee where the ICC can always refer whenever it needs evidence.
Meanwhile Ugandan troops have found the grave of what is believed to be that of a rebel commander wanted by the International Criminal Court.
The army spokesman Lt Col Paddy Ankunda says a deserter from the Lord's Resistance Army rebel group has led troops to the suspected grave of Okot Odhiambo.  Odhiambo was presumed to have been killed in clashes in 2013.
He was indicted by the ICC in 2005 on 10 counts of war crimes and crimes against humanity.
If his identity is confirmed, it will mean that only LRA leader Joseph Kony remains at large from the ICC's wanted list of suspected Ugandan war criminals.
This comes as the third inductee Dominic Ongwen is set to face trial on charges of war crimes and Crimes against humanity at The Hague based court where he next appears on August 24th
The LRA is notorious for seizing children and using them as sex slaves and fighters.
//////////////
The Electoral Commission is asked to take stringent measures to check misuse of money during the election period.
According to the Coordinator of the Citizen's Coalition for Electoral Democracy in Uganda Crispy Kaheru, an Election Expenditure Monitoring cell must be set up to monitor all campaign financing.
Kaheru adds that whereas studies indicate that MPs and those who hold elective offices spend a fortune on the campaigns, what needs to be investigated is the actual source of these monies.