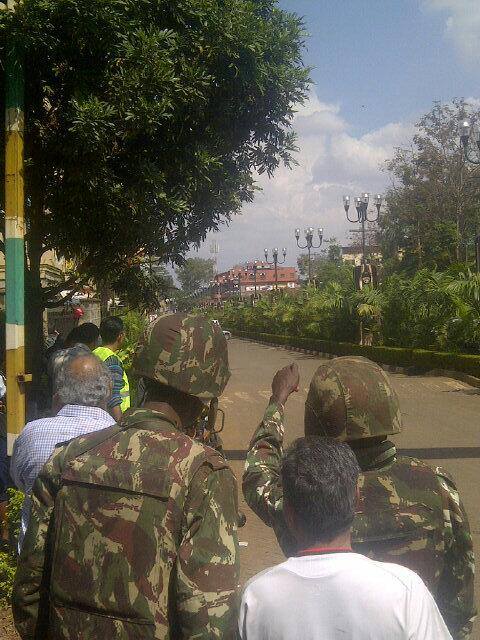 At least three people have been killed and dozens wounded after black-clad masked gunmen attacked an upmarket shopping mall in the Kenyan capital, according to witnesses.
An AFP television journalist saw three bodies laid out in front of Nairobi's Westgate mall, and two more bodies inside. An eyewitness who survived the assault by gunmen said he saw the body of a child being taken out of the mall. "The gunmen tried to fire at my head but missed.
At least 50 people were shot. There are definitely many casualties," a mall employee, Sudjar Singh, told AFP. "I saw a young boy carried out on a shopping cart, it looked like he was about 5 or 6.
It looked like he was gone, he was not moving or making any noise." Three bodies were laid out in front of the mall, their heads covered, according to an AFPTV reporter.
Two more bodies were lying inside the mall. Heavy gunfire could also be heard inside the mall as armed police moved in. The area is surrounded by police and ambulances. Shocked and terrified people ran from the area, some of them wounded, while cars with bullet holes were abandoned outside, according to another AFP reporter on the scene.
"I saw three of the attackers dressed in black and with covered faces and they were carrying heavy rifles," said a witness and survivor who identified herself as Annette. Kenneth Kerich, who was shopping when the attack happened, described scenes of panic.
"I suddenly heard gunshots and saw everyone running around so we lied down. I saw two people who were lying down and bleeding, I think they were hit by bullets.
The gunfire went on from ground floor and the upper floors," he said. "Initially we thought it is police fighting thugs. But we could not leave until when officers walked in, shot in the air and told us to get out."