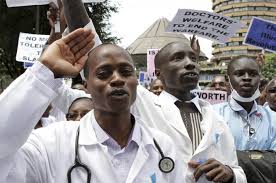 Health workers at Lyantonde hospital have laid down their tools
The doctors are protesting the arrest of their colleague Goretti Nansubuga on orders of the RDC Sulaiman Matojo.
This is after the doctor refused to offer immediate treatment to a patient sent in by the RDC who had jumped the queue.
Lyantonde hospital head, Julius Mwanjini says the Doctor did not break any law in telling the patient to line up and there fore should be freed.
Lyantonde district health officer,Okoth Obbo says they are to hold  a meeting with the RDC and the doctors to reach a harmonized position.
The strike has left patients stranded with no one to attend to them.
Ministry of health spokesperson Rukia Nakamatte says they have instructed the  health officials at the district to work towards ending the strike.