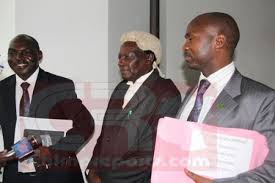 The two parties in the NRM rebel MPs' case have agreed on key issues.
The lawyers representing the rebel MPs and those for the ruling NRM party met in a pre-trial session this afternoon to harmonise their positions.
Some of the issues agreed upon are the facts for trial and the applicable laws.
Now Justice Eridad Mwangusha has asked the two parties to return to court of August 16th when they will the hearing date shall be set.
In the petition that is before the constitutional court, the ruling NRM party is challenging the fact that four MPs were expelled from the party but retained their seats.
The case is in relation to the May 2nd ruling by the Speaker Rebecca Kadaga that MPs; Theodore Sekikubo, Wilfred Niwagaba, Mohammed Nsereko and Barnabas Tinkasimire cannot vacate their seats.