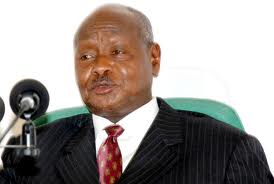 Labor Day celebrations in Kasese district have been disrupted by a heavy down pour.
The rains have left several homes, buildings, businesses and the venue of the event at Hima Play grounds in Hima town councils flooded.
River Nyamwamba, which crosses Kasese municipality from Rwenzori Mountains to Lake George, flooded, causing mayhem.
Meanwhile, Ugandans plying their trade in different sectors have received medals at the national Labor Day celebrations in Tororo district.
The 50th Anniversary Commemorative medals were given to players in the religious, cultural, workers, educationists, medical officers, MPs and journalists.
Some of the media personalities who received the award include Drake Ssekeba, Cosma Warugaba, Barbra Kaija, Joshua Kato and Tom Owana.
Former Uganda Investment Authority Executive Director, Dr. Maggie Kigozi received a medal from the private sector, while former Uganda Olympic medalist, the late John AkiiBua and the late John Michael Ariong received posthumous awards in the police force.
These are part of the 3,242 name approved earlier by the president to receive medals.
The national Labor Day celebrations were today held at St Peter's College in Tororo District under the theme "Skilling Uganda for increased labor productivity – A shared responsibility"
In Kamuli, the celebrations have been marked with a general clean-up exercise, led by the district chairperson Salam Musumba.