By Ruth Anderah:
Kampala High Court has declined to issue an order directing A-Plus Funeral Management Company to exhume the body of the late Ivan Ssemwanga.
The unusual order had been sought by a one Abey Mgugu, a concerned citizen.
The presiding judge Margaret Oumo-Oguli yesterday dismissed Mgugu's application against A-Plus Funeral Services and Bank of Uganda in which he had sought permission to exhume Ssemwanga's body and remove all the currency notes that were allegedly buried with him.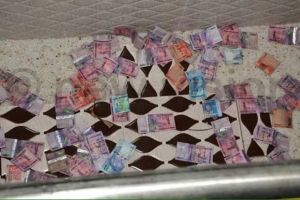 Justice Oguli ruled that A-Plus Funeral Management Company owed no duty to Mgugu since the mode of contract that Ssemwaga's family entered with the funeral company did not include the supervision and enforcement with regard to respect of currency notes.
The judge also ruled that Mgugu did not have any cause of action against A-Plus because it is not the company that threw money into the  deceased's  grave, something which would have given rise to this case.
Justice Oguli has also exonerated Bank of Uganda of neglecting its statutory duty to protect currency notes saying after careful perusal of the Bank of Uganda Act, the court realized that it gives it no duty to enforce respect of the Ugandan currency and those from other jurisdictions such as the US Dollar and the South African Rand that Mgugu claims were also thrown in Ssemwanga's grave.
In his petition, Mgungu wanted an order that the said money be put back into circulation for purposes of respecting the currency of Uganda and other countries like South Africa and the United States of America.
Mgungu also wanted a declaration that Bank of Uganda willfully and negligently failed to ensure the respect of the said currencies.
Bank of Uganda still has a pending case before Justice Stephen Musota where another concerned citizen, a one Robert Ssenfuka wants the late Ssemwanga's body exhumed and all the money that was buried with him put back into circulation.