The demolition followed a directive by Kampala Minister Betty Kamya dated 7th February 2017 giving the traders 30 days to vacate.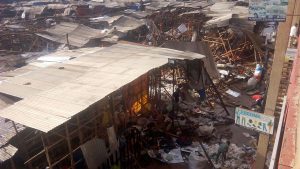 The said directive has however been effected ten days before the deadline.
Now speaking to Kfm the executive director of the Foundation for Human rights initiative Dr Livingstone Ssewanyana said it was wrong to evict the traders without providing them an alternative place and adequate time to relocate.
He says there needed to be dialogue and not use of force which has now been institutionalized.
Related Stories 
Lukwago convenes council meeting over parkyard demolition
Lord Mayor and three MP's arrested this morning at Park Yard Market
KCCA council has maintained that park yard vendors should continue operating until council resolves their status