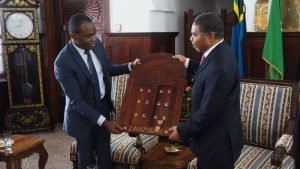 By Ruth Anderah
The President of Zanzibar H.E Dr Ali Mohamed Shein, has underscored the importance of human rights as a prerequisite for peace and stability in Africa.
He was receiving the president of the African Court on Human and People's Rights Hon Justice Syvain Ore who led a delegation of the Court's judges to pay him a courtesy call at State House on Monday morning.
President Shein said there could not be any development without peace and stability.
This, he said, had resulted in enormous economic, social and political achievements on the Islands, which he asked other leaders in the region to emulate.
The African Court is holding its 55th Ordinary Session from 4 to 29 November and 10th Extra-Ordinary Session from 2 to 7 December in Zanzibar.
Hon Justice Oré thanked the Zanzibar government for hosting the sessions and especially for its commitment to peace, unity and the protection of human rights.
"The Court's decision to hold the Sessions in Zanzibar is testimony of Zanzibar's peace and stability and affirms the latter's commitment to respect for human rights and the dignity of the human being", Justice Oré said.