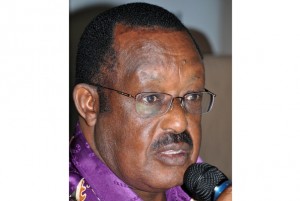 The late Kategaya has been hailed as a great revolutionary and patriot.
Speaking at a special thanks giving service in his honor, speaker after speaker described the late as an honest, humble and loving leader.
Among these included President Yoweri Museveni, the Prime Minister Amama Mbabazi, State minister for East African Affairs Shem Bageine, and the Secretary of the East African Community Sezibwera.
The President described the late Kategaya as a great Pan Africanist who was not corrupt; whose death he says was premature and is a very big loss to the country.
Giving his sermon retired bishop George Tibesigwa said the deceased died unhappy because of the various evils in the country that still prevail like corruption ,child sacrifice and the unfinished Integration of East Africa
He has asked those still alive to address all these issues if the spirit of the late is to rest in peace.
The service was led by archbishop Stanley Ntagali and Rt Rev Sheldon Mwesigwa.
The service has attracted several dignitaries including ministers, Officials from the East African parliament, deputy Chief of defence Force Ivan Koreta, IGP Kale Kaihura , religious leaders , members of parliament among others.
The body has now been taken to Itojo in Ntugamo district where burial is to take place tomorrow.