It is Valentine's Day.
A holiday celebrated on February 14th by many people throughout the world.
It is not only a day on which lovers express their love for each other but also offers a business opportunity for those dealing in items like Valentine's cards, flowers and confectionery.
In down town Kampala, all stalls are painted red.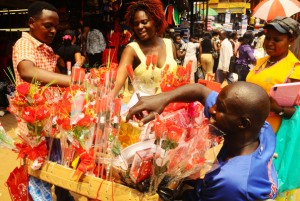 Now as the world cerebrates Valentine day today, the police are warning the public against careless behavior.
The Savanah region police spokesperson Lameck Kigozi says lovers should avoid unnecessary quarrels that may result into violence.
He adds that the police child and family protection unit will be available to handle such cases in time.
From the religious perspective, married couples have been urged to renew their love on Valentine's Day.
Religious leaders have challenged married couples to reflect on their love and providing a better future for their children on this day.
Kampala Arch- diocese spokesperson Mgr. Wynand Katende says Valentine's should not be a day for break ups but rather one for consolidating love.
He says the church believes in true love which should be visible among married couples.
However, the story is different for the Muslims who according to their leaders are not meant to celebrate Valentine's Day.
Leaders at the Uganda Muslim Supreme council have cautioned Muslims about celebrating a day that is anti-Islam.
The spokesperson of the Muslim supreme council Hajji Nsereko Mutumba says the holy Quran does not recognize this day and therefore it should not be celebrated by Muslims.
He says that irresponsible sexual behavior characterized by this day is totally against Islamic teachings.