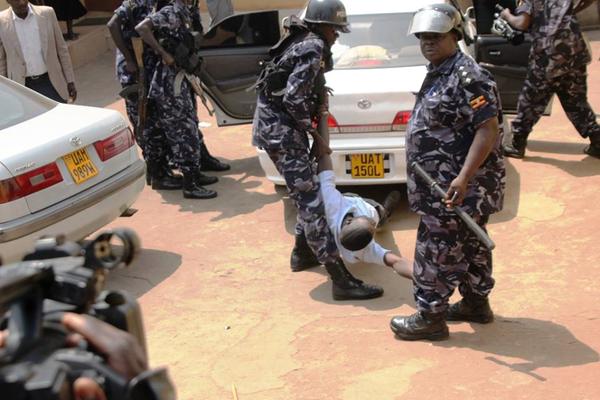 Andrew Lwanga, a journalist who was assaulted by Old Kampala DPC Joram Tumwesigye is still stranded in hospital after police failed to clear his bills.
The police had earlier promised to pay the bills for Lwanga who was rushed to Nsambya Hospital in a critical condition after he was assaulted by the officer.
However, 18 days after his admission Lwanga was discharged this morning but the hospital held him because he has failed to clear the bill.
Lwanga informed fellow journalists at the hospital that police had so far issued him with a commitment document promising to clear his bills amounting to Shs1.26m which the hospital has rejected
Ms Jenniffer Lwanga, the mother to the embattled journalist said that in total, the police is supposed to pay Shs 5m since the family had already paid for some basic treatment to the hospital which
required them to pay in cash.
"We are still in negotiations with police because they had pledged to refund all the money we had earlier paid to the hospital. The Shs1.26m is what we still owe the hospital and just part of the whole bill,"Ms Lwanga said.
However, when contacted, Mr fred Enanga the polikce spokesperson said the money is being processed and would be deposited on the hospital account any time.
"Police has maintained its commitment and we sent the money to Bank of Uganda and it is now the bank to deposit that money to the hospital account,"
Mr Robert Sempala, the coordinator Human Rights Network for journalist (HRNJ) criticised the police for not expressing their support to Mr Lwanga saying that it appeared as if they were just being dragged to pay his bills.
Mr Sempala also asked the media houses in the country that the boycott on journalists continues until police comes out with an official apology for its brutality on journalists.
"Media houses and journalists should not treat the situation between police and the media as normal. Let's uphold the blackout on police until we get assurance from them that such brutal acts will not happen again,"
Journalists had earlier announced a boycott on covering all police functions on grounds that the latter mistreated the former though it did not appear to bear fruits. Lwanga's condition
Mr Lwanga who is currently using crutches to walk said he still fills pain in his bark because according to his doctors, one of his limbs got bent.
"Though the doctors had earlier suggested an operation they opted for a physiotherapy which am supposed to undergo for the next three monthsas they review my response,"
"An operation would only be carried out if the physiotherapy fails because the the doctors say if operated I may get paralysed for life,"
Lwanga's mother however said that if he is to be operated it would cost the m Shs 4.2m.