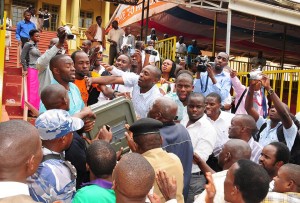 Journalists have today failed to elect  a leader.
This is after one of the candidates Simon Kaggwa Njala contested some of the names on the voters' register.
Njala said that  many of the registered voters are not journalists and therefore cannot vote.
His complaints was supported by other contenders who unanimously aggreed that the elctions be pushed.
The journalists under the Uganda journalists association had converged at the public library on Buganda road to elect a new leader.
A new date will now be set for fresh elections after aggreeing on several questions raised.
There was however chaos when some journalists objected to the postponement prompting police to fire teargas.
The position of presidency had attracted five candidates who included Richard Kayiira, Robert Kagolo and Simon Kaggwa Njala among others