By Ruth Anderah:
Judicial work has for the second time come to a standstill, this time after all judges and magistrates across the country commenced their industrial action in protest against what they call the continued marginalization of the judiciary as the third arm of government.
According to the president of the Uganda Judicial Officers' Association Godfrey Kaweesa, this is exhibited in the poor welfare and low salaries that they earn.
He says the strike is indefinite until a general meeting is reconvened for judicial officers to deliberate on the next course of action.
Kaweesa adds that the administrative circulars issued yesterday by the Chief Justice Bart Katureebe and Chief Registrar Paul Gadenya cannot vacate the judicial officers' resolution from the July 22 meeting.
The judges, registrars and magistrates are demanding for salary increments and other benefits including security, medical insurance and housing allowances.
This is the second time judicial work is paralysed, the first one being 2 months ago when all state prosecutors including the DPP laid down their tools due to low salaries.
These have however since resumed duty after government committed in writing to increase their salaries.
Meanwhile, at the Anti-corruption Court in Kampala, prison authorities have sent suspects back to prison.
The situation is not any different in other parts of the country like Masaka, Lyantonde and Jinja where court rooms have remained deserted.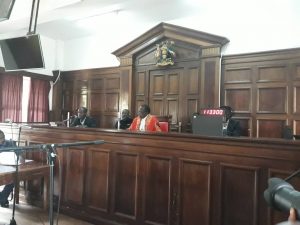 However, at the High Court Kampala, the head of the Criminal Division Wilson Kwesiga has defied the resolution to strike.
In a related development, the Foundation for Human Rights Initiative has called on government to urgently address the concerns of the Judiciary.
Speaking to KFM, the foundation's executive director Dr. Livingstone Ssewanyana says its high time government prioritized the judiciary arguing that failure to do so undermines timely delivery of justice.