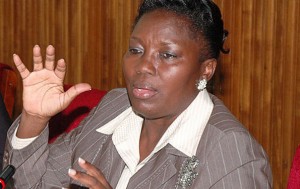 The Speaker of parliament Rebecca Kadaga has rescinded her decision of halting the PAC probe into the alleged financial scam in the Office of the Prime Minster.
The Speaker had written to the committee chairperson ordering that the probe be halted saying it was prejudicial since there were on going court cases on the same matter.
However, in a twist of events, she now says that the letter she sent to the committee chairperson Kasiano Wadri was restricted to people who were meant to appear in court on 13th and 14th February.
Addressing journalists at parliament Wadri now says the committee will set new dates to meet these officials as he elaborates.
Wadri says the committee will also have to interface with Geofrey Kazinda before it writes its report.
The Speaker had earlier explained that the MPs failed to work with in the deadline set for them, adding that their work would interfere with the on going trials before Court.
Several MPs had vehemently opposed her earlier decision, with some threatening to demonstrate against the same.