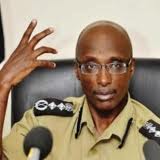 The police chief Lt Gen Kaihura has denied media reports indicating that the police quizzed the prime minister over NRM cash over the weekend.
According to today's media reports, Ammama Mbabazi was asked by the Criminal Investigations Directorate to record a statement with the police as inquiries into unaccounted for party funds began.
However, addressing the media this morning, the police chief has distanced himself from the reports saying he was in Masaka at the time when the said grilling is said to have taken place.
He has also threatened to summon the media houses that published what he calls false reports, for questioning.
Meanwhile Lt Gen. Kayihura has blamed the low levels of community policing on the laziness of some officers.
Speaking at the launch of a community training session supported by the Irish gov't, Kaihura said most officers at community level lack ideological commitment to effectively implement community policing ideas.
He said the despite the fact the 150 police patrol vehicles and over 10,000 officersare deployed in Kampala metropolitan area alone, the area has still continued to register the highest crime rate in the country.
He adds that a team of fitness experts has been set up to help obese officers regain their fitness.
Irish team leader Ryan Phillip says that he is hopeful that the training of the over 50 police officers will help promote community policing and turn reduce crime rate.