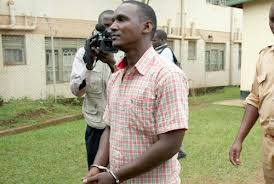 Hearing of the case against Adam Kalungi has flopped.
This is after lawyers representing the accused persons asked court to halt the proceedings until the office of the Directorate of Public Prosecutions is fully constituted.
The lawyers led by Mcdusman Kabega argue that in the absence of the DPP and his deputy, the representatives cannot have powers to appear in court since they have to consult.
Kalungi is the prime suspect in the murder of former Butaleja woman MP Cerena Nebanda.
He and five others are charged with manslaughter and dispensing and supplying of narcotic and heroin drugs.
Makindye Court Chief Magistrate Esther Nambayo has adjourned the case until August 12th when she will deliver a ruling on whether or not to halt the trial.
Meanwhile Kalungi has been sent back to Luzira prison, while his co-accused are out on bail.