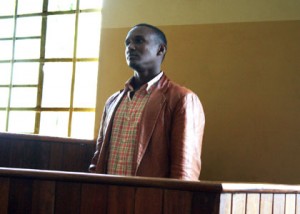 The back and forth trips to Luzira are not about to end for Adam Kalungi.
Kalungi, a key suspect in the murder of Cerina Nebanda has been sent back to Luzira prison after hearing of the case of manslaughter was adjourned to 5th March.
Kalungi and five others are accused of manslaughter and unlawful possession of narcotic drugs that led to the death of the former Butaleja district woman MP.
He and his five co accused had appeared this morning before Makindye Court Chief Magistrate Esther Nambayo.
She adjourned the case after the State Attorney Lucy Kabahuma told court that investigations were still going on.
Meanwhile one of the five suspects Ali Omar Almuzahim has been granted bail after he paid the Shs. 10m bail money and presented sureties with land titles in their names.
The suspects including Abid Rashid Butt, Fatima Babu, Khan Babu, Noor Abubaker, were earlier granted bail but their sureties failed to produce land titles before court and were sent back to Luzira prison.
The four have been sent back to prison after they again failed to fulfill their bail requirements.
Kalungi did not apply for bail citing security reasons