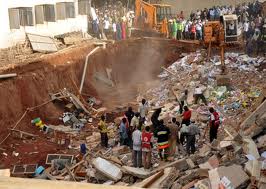 Kampala Capital City Authority has sent a team of its Engineers to investigate the circumstances that led to the collapse of a six-floored building in Kansanga.
The building collapsed on Monday injuring three people and destroying property at the nearby residence.
KCCA Deputy Spokesperson Robert Kalumba says they expect a comprehensive report by Friday this week.
Residents blamed the accident on KCCA which they say failed to do its supervisory role.