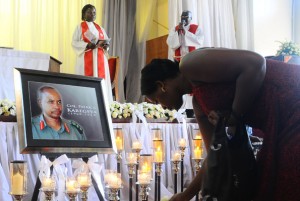 Karegeya's family has been asked not to seek revenge but turn to God.
This was the message to the family of former Rwandan spy Chief Patrick Karegeya during a requiem service held at St Andrew's church in Bukoto.
Leading the service this afternoon, Reverend Stephen Bamutungire asked the family to resist from avenging the death of the deceased but rather embrace forgiveness.
Speaking on behalf of the family, Jackie Rugasire said that the family had come to terms with the loss and will continue to pray for the late Karegeya.
The body of former intelligence chief was found, apparently murdered, in South Africa.
Mr Karegeya had fallen out with the Rwandan leadership and set up an opposition party.
His allies said he had been killed by government agents – a charge denied by the high commissioner to South Africa.
He will be laid to rest on Saturday in South Africa.