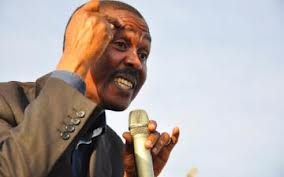 Forum for democratic Change president Maj. Gen Mugisha Muntu has called for an independent committee of parliament to investigate the attacks in Bundibugyo and Kasese districts.
An estimated 100 people have so far died in Tribal clashes between the Bakonzo and Bamba which started on Saturday last week.
Muntu says the ongoing operations by the UPDF and Police are out of panic and can escalate the conflict if innocent people are arrested.
Muntu says the UPDF must thoroughly understand the complex situation in the Rwenzori region before any operations are made.
This comes as the army concludes the screening of suspects arrested in relation to Saturday's attacks that have left close to 100 people dead in the districts of Bundibugyo, Kasese, Ntoroko.
The Second Division Spokesperson Maj. Ronald Kakurungu says they have now zeroed in on 65 suspects who are being interrogated out of the 84 arrested in Bundibugyo and Ntoroko districts.
The police in Kasese are screening another group whose number is unspecified. Kakurungu says they have also managed to recover three guns.