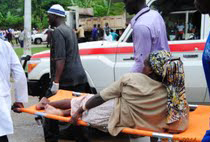 The Ministry of Works and Transport is set to procure culverts to be used in fixing damaged roads in Kasese district.
Several bridges were washed away when rivers burst their banks yesterday and flash floods swept through Kasese town leaving atleast three people dead.
Also affected was Kilembe hospital which was closed and hundreds of patients evacuated.
Now the Works Ministry's Public Relations Officer Susan Kataike says the move is aimed at reducing the effects of floods in the area. Kataike adds that after Kasese they intend to fix culverts on all district roads that are usually affected by floods.
This comes as district authorities embark on removal of silt from the affected rivers. The district disaster management committee has secured a bulldozer from Hima Cement factory to help redirect the flow of rivers to their original course.
Meanwhile, the Ministry of Health is appealing to the world health Organisation for support in handling the Kilembe hospital crisis.
The ministry's public relations officer Rukia Nakamatte says a team of experts has been dispatched to carry out a needs assessment and establish the extent of damage.