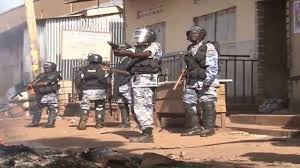 Residents of Kasokoso in Kira town council Wakiso district are again up in arms.
This time they are protesting the alleged arrest of their leaders.
This morning the angry residents blocked all roads, burning logs and leaves, which prompted the police to fire tear gas to disperse them.
The teargas has also affected senior six and senior four students who are sitting for their final exams at the neighboring Precious College Schools.
Meanwhile an army officer is among the demonstrators arrested at Kasokoso this morning.
According to the DPC Kiira Division police Robert Nkulega, Corporal Birukanga Godfrey of Number RA 067499 is attached to Nakasongola barracks was found in possession of a grenade and was among the rioters who were trying to attack the police.
He is currently detained together with others at Kiganda Police post in Kasokoso.
Corporal Bitukanga had slip indicating that he had been granted sick leave and was meant to be in Rukungiri.
The police are yet to quell the riot. The residents have previously held demonstrations in protest of their planned eviction by the National Housing and Construction Company to pave the way for establishment of a satellite village.