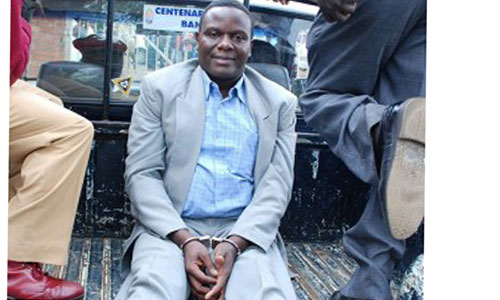 Lawyers representing businessman Godfrey Kato Kajubi have raised concern that investigation  into  the  ritual  sacrifice case  against  him has  delayed   his committal  to the High Court for  trial.
Kajjubi who came to court smiling hoping that he could be committed today went visibly disappointed after Masaka Grade 11 Magistrate Fortunate  Kaamukama  ordered  that he be taken back to prison because investigations were still going on.
The State  Prosecutor Rachael  Namazzi  told Court  that  Kajjubi 's Police  file  was still at the Directorate  of Public Prosecutions in Kampala since investigations  are incomplete.
The magistrate has thus ordered that Kajubi be re remanded at Masaka prison until 29th February.
Prosecution alleges that  Kajjubi  together  with Umar Kateregga, a  traditional herbalist  and his Tanzanian  Wife-  Mariam Nabukeera  in October  2008  beheaded  12 year old  Joseph Kasirye, for ritual purposes in Masaka.