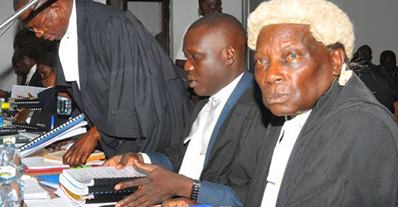 The controversy surrounding the appointment of Justice Steven Kavuma as Deputy Chief Justice reached the Supreme Court.
According to the petition filed by Western Youth MP Gerald Karuhanga and city advocate Eron Kiiza, they have decided to petition the Supreme Court after the Constitutional Court Registry staff reportedly refused to register their petition last week.
On Wednesday last week, there was drama at the Constitutional Court with retired Supreme Court judge Prof George Kanyeihamba publicly weeping after the court allegedly declined to receive his clients' petition.
The petitioners claim that the Judicial Service Commission did not nominate Justice Kavuma's name to be considered by President Museveni for his appointment which is unconstitutional.
Addressing the media at Parliament today, Prof Kanyeihamba said that the petitioners now want the Supreme Court to declare that the actions of the Constitutional Court violated their rights to be heard.
In a related development, the Uganda Law Society (ULS) under the leadership of Ruth Sebatindira; has written to the Chief Registrar of courts of judicature Paul Gadenya demanding that an investigation be done on Registry staff of the Constitutional Court on why they denied registering the petition challenging Justice Kavuma's appointment.
According to the letter dated March 19, the law society states that if the alleged actions of the court staff amount to abuse of office and that the same is unacceptable in a free and democratic society.
Story by Anthony Wesaka