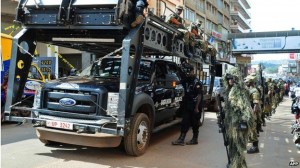 The Inspector General of Police Gen. Kale Kayihura is to pitch camp in Western Uganda following Saturday's attacks by unknown assailants.
Yesterday (Sunday) Gen. Kayihura arrived in Bundibugyo for a security meeting with Security officers and operatives in Western Uganda.
Deputy Police Spokesperson Polly Namaye says the IGP will pitch camp there for as long as is necessary.
The army says so far more than sixty people have been confirmed dead including nine people who were attacked by the assailants and 52 of attackers.
Namaye says the police are carrying out joint operations with the military to establish the cause of the attacks and restore security to the area.
On Saturday afternoon, the assailants attacked three districts of Bundibigyo, Ntoroko and Kasese killing 9 people, including police officers.
The UPDF retaliated by killing 55 of the attackers who attempted to access a barracks in Bundibugyo.
Namaye says the IGP's stay in the area is to support police investigations and comfort bereaved families.
Relatedly, Parliament's defense Committee has tasked the UPDF to come up with a comprehensive report on the spate of killings and attacks on security installations.
Addressing a congregation at Kasenyi in Mubende district, Committee chairperson Benny Namugwanya said these attacks have created tension and fear among Ugandans.
She adds that the attacks on security installations send to wrong signal to the public.
The attacks were first reported in Mubende, Kyenjojo, Kyegegwa and now Kasese, leaving atleast 60 people dead.
Namugwanya now says that to assure Ugandans of total security, the army must come out with a full report on the matter.