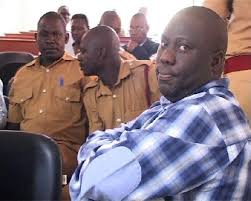 Lawyers representing Kazinda are pushing for his acquittal.
The lawyers led by Macdusman Kabega say court should acquit Geoffrey Kazinda on grounds that prosecution failed to prove that he forged the Permanent Secretary's signature.
The interdicted principal accountant in the office of the Prime Minister is charged with abuse of office, forgery and making document without authority.
His lawyers however contend that the handwriting expert Sam Ezati did not establish whether Kazinda signed the security papers and cash withdrawal forms on behalf of the permanent secretary Pius Bigirimana.
They say the documents were not forged since they originated from Bank of Uganda.
They also argue that the said documents were not recovered from his home but his mother's house.
Final submissions are complete and the Anti-Corruption Court Judge David Wangututsi has adjourned the case until May 22nd.