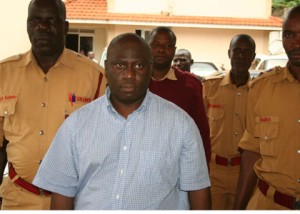 Anti-Corruption Court  Chief Magistrate Irene Akankwasa has adjourned the trial against the interdicted former principal accountant in the office of the Prime Minister, Geoffrey Kazinda to May 20th.
Earlier Macdusman Kabega and Tom Magezi decided to withdraw as Lawyers representing Kazinda.
The lawyers stormed out of court after the trial Magistrate Irene Akankwasa refused to grant them an adjournment to attend to another Court presided over by Justice David Wangututsi.
The Magistrate has now decided to adjourn the case to give Kazinda time to engage other lawyers.
Kazinda is charged with embezzlement, false accounting and conspiracy to commit a felony.
He is also charged with abuse of office and causing financial loss of up to sh316m.