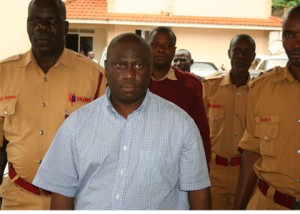 The interdicted principal accountant in the office of the Prime Minister Geoffrey Kazinda is to battle with other charges.
This is after the Anti-Corruption Court Chief Magistrate Sarah Langa set April 17th as a date to start hearing another case against Kazinda.
Kazinda and 3 others face 2 counts of offences relating to diversion of public funds amounting to 20billion shillings, conspiracy to defraud government and abuse of office.
According to prosecution the money was intended for the Peace Recovery and Development Program in Northern Uganda.
His three co-accused are officials of the ministry of finance, Wilbert Okello, a systems analyst David Mugisha a Senior Economist and Bright Twine – a senior accountant.
In a seperate development, Total Ntinda service station has denied any dealings with  Geoffrey Kazinda.
Shamim Masembe the proprietor of Total Ntinda told court that the station never dealt with Kazinda personally but it has been serving fuel directly to the Prime Minister's Office and the money would be paid through the station account in DFCU bank.
Kazinda and three others are charged with 29 counts of embezzlement, forgery of fuel voutures, causing financial loss and false accounting.
His co-accused persons include John Owori Martin, Commissioner for relief and disaster preparedness in the Prime Minister's office, Kezzabu Beatrice, assistant commissioner for resettlement and Hussein Katumwa,  a Manager at Total Petrol station Ntinda.
They are alleged to have caused a loss of over 316 million shillings to government.