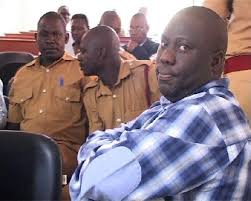 A witness in the Kazinda fraud case has turned a suspect.
The Anti-Corruption Court has issued criminal summons against the proprietor of Total Ntinda Service station to answer charges relating to fraud.
Shamim Masembe is jointly charged with his station manager Hussein Katumwa, Geoffrey Kazinda, Beatrice Kezzabu assistant commissioner for resettlement in the Office of the Prime minister.
Masembe is accused of conspiring with Kazinda and others to steal Shs. 316 million meant for the procurement of fuel and lubricants for vehicles delivering relief food to disaster victims in various districts.
She is expected to appear in court tomorrow.