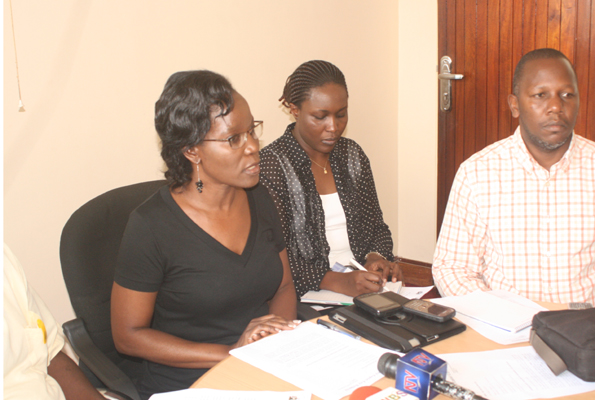 Kampala Capital City Authority (KCCA) executive director Jennifer Musisi has apologized to the family of the toddler who was run over yesterday.
The two year old baby was run over near the City Hall Court by a vehicle belonging to the authority.
The mother of the child identified as Madina Namutebi, a resident of Masajja- a Kampala suburb had been arrested for street vending contrary to the law and was later taken to City Hall Court.
Speaking to journalists, Musisi said the accident was an unfortunate incident which she regrets.
Earlier a scuffle ensued between KCCA officials and relatives of the deceased.
KCCA officials had delivered food items to Madina Namutebi's home in Masajja where mourners had gathered.
However, the family rejected the money and items and instead returned them together with the dead body to City Hall.
Initially they were denied access but later the baby's body was taken from the relatives and put away in an ambulance as talks between the two parties continued. They failed to reach agreement and the deceased's parents resolved to take the body back to Mulago Hospital as they await compensation from KCCA.
The two-year-old child was crashed yesterday at KCCA court premises after the mother was arrested for hawking.
She reportedly begged to breast feed the child, but was denied access the baby who then wandered off and went under a parked and was run over.
The parliamentary forum on children too has spoken out condemning the death of the toddler which it has blamed on negligence.
The forum's chairman Bernard Atiku together with Uganda Child Rights Network Executive Director Stella Ayo say the matter will be taken to floor of parliament tomorrow for debate.
The driver of the official vehicle of the KCCA publicist Peter Kauju has since been detained at the Central police Station.
In a separate development, the European Union is asking government to implement legislation meant to protect children's rights.
The call comes as the country prepares to mark 25 years of the UN Convention on the Rights of the Child tomorrow.
Addressing the media earlier today, the Head of European delegation to Uganda, Ambassador Kristian Schmidt said although Uganda has various legislations meant to protect the rights of children, effective implementation is yet to be achieved.