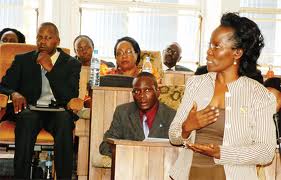 Kampala Capital City Authority (KCCA)has maintained that it will not move the taxi stages at Usafi park.
Taxi drivers plying the Entebbe route this morning went on strike, protesting their relocation from the Old Taxi Park to Usafi park.
All taxis that operate in different parks around town have been parked apart from those in Nakawa and Nateete parks.
The chairman of Drivers and Conductors Association, Mustafa Mayambala says that this is will continue until KCCA intervenes in solving the confusion within the industry.
KCCA Executive Director, Jennifer Musisi says the current state of the Old taxi park is deplorable and requires decongestion and rehabilitation, hence moving the stages to Usafi Park.
Musisi says the authority is coordinating with police to ensure that adequate security with the police deployed in the areas where passengers pass to access the park.
Yesterday, the drivers demonstrated over the same leaving many passengers stranded.
The movement of taxi stages has not only affected the drivers but other road users and passengers.
It has become very hard for a passenger to trace for stages and so is the traffic jam that has doubled on Entebbe road.