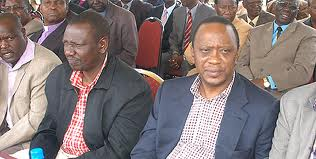 The High Court in Kenya has ruled that only the ICC can bar the Kenyan Deputy Prime minister Uhuru Kenyatta and a former MP for Eldoret North William Ruto from contesting in the March 4th presidential polls.
The five judges who include Pauline Nyamweya, Luka Kimaru, Msagha Mbogholi, George Kimondo, and Hellen Omondi ruled that the High court did not have powers to rule on the matter and neither does it have powers to interpret the Kenyan constitution.
They also ruled that Ruto and Kenyatta had not yet been found guilty by the International Criminal Court and denying them the chance to run for any elective office would be against their constitutional rights.
The petition was filed by activists Charles Ndungu, and a lobby group public corruption, Ethics and Governance watch.
The petitioners want the candidates barred from running for president following an indictment by the International Criminal Court.
They contend that having Ruto and Kenyata run for the country's top seats undermines the integrity of the constitution, the citizens and the nation.
They also argue that for a person indicted by the ICC for crimes against Humanity to contest does not bring honour to the nation and dignity to the office.  They further want an interpretation of the constitution by the Court.
Kenyatta and Ruto are frontrunners for the Jubilee Alliance party, seen as a strong contender in the elections.