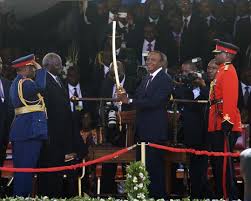 Kenya's President, Uhuru Kenyatta has urged the international community to respect the sovereignty of states.
Giving his maiden speech after taking oath and receiving the instruments of power today, Kenyatta said his country is ready to uphold its international obligations.
His statements could be in view of his case in the International Criminal Court, where, he together with Deputy President, William Ruto are facing charges of alleged crimes against humanity during the 2007 post-election violence.
Kenyatta also promised to work towards maintenance of permanent peace in the country, warning that any agents of terror will be met with the full force of the law.
He also promised to advance economic growth through supporting industrial and agricultural sectors, as well as ensure that all citizens are well catered for.