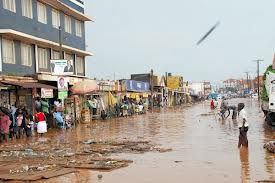 Residents of Kibuli Kanakulya zone have been demonstrating over flooding in their area.
The afternoon down pour has left very many roofs blown off while a number of houses and shops have been washed away.
Some of the residents we spoke to blame the flooding on a Chinese contractor that renovated Kibuli –Mbogo Road blocking the drainage systems.
They are now asking Kampala Capital City Authority to intervene and clear all the drainages to avoid further loss of property as the rainy season continues.