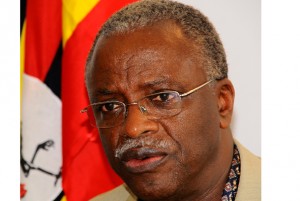 Kigezi MPs have not declared support for any presidential candidate.
The Kigezi Parliamentary group has disassociated itself from reports that they have endorsed Prime Minister Amama Mbabazi as presidential candidate for 2016.
Addressing the media at parliament today, Rujumbura County MP Jim Muhwezi said reports that Central Bank Governor Tumusiime Mutebile and Health minister Ruhakana Rugunda had endorsed Mbabazi are a mockery.
He adds that it is a total distortion of the position of the NRM Nyakigezi Organisation, maintaining that Museveni remains the party's preferred candidate for 2016.
Responding to a story published by a local tabloid yesterday, Muhwezi said it was wrong for the politicians to use the International Community of Banyakigezi for political gain.