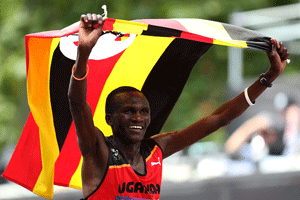 Uganda's golden boy Stephen kiprotich has today been piped as a full Assistant Superintendent of Prisons at an occasion held at Luzira
Prison.
Kiprotich who has been piped with 32 other sports
officers has pledged continued service to the Institution and to the country.
Internal affairs minister Hillary Onek pledged to move a
motion before the Speaker of Parliament to name Kiprotich as Uganda's
ambassador of patriotism.
Onek says Kiprotich united the whole country after
winning the medal.
He has skipped 7ranks from being Prison warder to Assistant
Superintendent of Prisons.
According to the Dr. Johnson Byabashaija, the Prisons
Commissioner General, Kiprotich becomes the youngest officer in the institution's
history to hold such a rank.
He says this is to recognize the great honor Kiprotich
did his nation and the institution.
At 23 years of age, Stephen Kiprotich a former 10,000
meter national champion emerged the winner of the 2012 Olympics marathon
race, ending the country's 40 year wait for a gold medal.