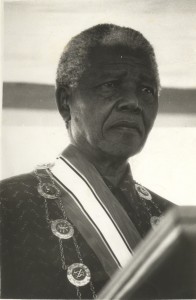 More tribute continues to pour in in honor of fallen former South African leader Nelson Mandela.
Buganda kingdom has paid tribute to fallen former South African leader Nelson Mandela.
The kingdom parliament has today passed a motion to honor the late Mandela and called on African leaders to emulate his resilience.
Addressing the members of the Lukiiko, the Kingdom Prime Minster Charles Peter Mayiga has described Mandela as a man who forgiving and never sought revenge on the whites who were perceived as enemies at the time.
He says such a spirit should be emulated by Ugandan politicians for world to remember them.
At the South African High Commission in Uganda, a condolence book was opened last week and different people have since signed it.
This morning one of them was the Korean Ambassador to Uganda Jong Yang who praised the late Mandela for playing a key role in fighting racial segregation in South Africa.
Meanwhile the condolence book remains open until Friday and the commission is set address a news conference later this afternoon.
The Ugandan parliament will tomorrow hold a special session in honor of the iconic leader, while in South Africa, the national week of mourning continues with parliament holding a special in honor of Mandela today.
Mandela died on Friday at his Johannesburg home after a long battle with a lung infection.
An official memorial services is set to be held tomorrow with over 90 sitting and former heads of state expected to to attend in Soweto at the FNB stadium.
He will be laid to rest on Sunday, December 15th.