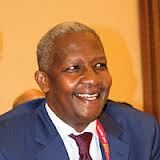 Foreign Affairs Minister Sam Kuteesa has returned to a heroic welcome at Entebbe international airport.
Kuteesa was recently elected the president of the UN General Assembly, a largely ceremonial role whose term runs for one year.
Speaking to journalists shortly after he jetted in from New York this afternoon Kuteesa pledged to work together with the united nations of the world to fight for Africa's issues in the world community.
Kuteesa highlights climate change and women's rights as some of the key priorities.