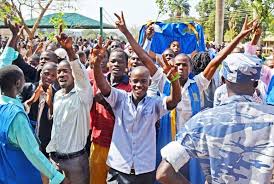 Tension is high at Kyambogo University following an early morning strike by a section of students.
Last evening one student was stabbed during a clash between FDC guild candidate Julius Nsubuga and NRM candidate Ian Kafoko.
This morning the students stormed the senate building demanding for action against those behind the attack.
This prompted the police to swing into action dispersing the students and remains deployed at the university.
The head of security at Kyambogo police post Alfred Akankwasa says the deployment will continue to avert any more violence.