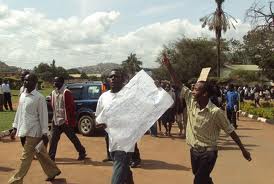 Kyambogo University students are on strike.
The students are protesting against a directive from the administration for them to pay full tuition amounts within two weeks of reporting to school.
The students have converged outside the administration block, demanding that the directive is withdrawn.
They argue that two weeks is a very short time to raise money for their school fees.
They are not allowing any outsider into the university and have also blocked vehicles from accessing the university.
The police has been deployed at the University and keeping an eye on the situation.
Offices remain closed and there are no on going lectures at the university.