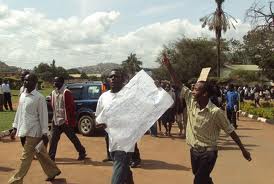 Tension is high at Kyambogo University as students threaten to strike over missing names on the graduation list.
John Mugabi the guild president says the university has published on its website with over 1,000 names of missing. He says if nothing is done to rectify the situation, the students will have no choice but to strike.
However, the university spokesperson Lawrence Madete says the group of students who wanted to cause chaos includes those who entered the university illegally, those with re-takes or those who still have not cleared all tuition fees.
He adds that the council is still working on the final list to include those with genuine reasons.
Out of 8,000 students expected to graduate on Thursday the 20th of February, only 6,215 have been cleared.