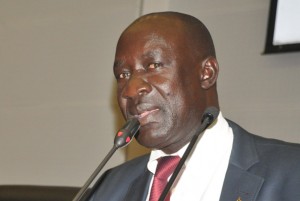 Inadequacy of resources is hindering the desilting of the two rivers that burst their banks in Kasese district last week.
River Nyamwamba and Nyamugasani burst their banks leading to flash floods that left three people dead and hundreds displaced.
State Minister for Disaster Preparedness Musa Echweru says over Sh.30 billion is required to successfully desilt the two rivers to prevent such disasters in future.
Echweru says they are now depending on labour provided by the military as few machines are at their disposal some of which broke down yesterday.