By Ritah Kemigisa.
Police together with the UPDF marine team have managed to retrieve the boat that capsized on Saturday claiming the live of over 30 with others still missing.
So far 33 bodies have been retrieved and the search for the missing bodies still continues.
Earlier the deputy Inspector General of Police Muzeyi Sabiiti joined the team headed by Asuman Mugenyi to remove the capsized boat from Lake Victoria.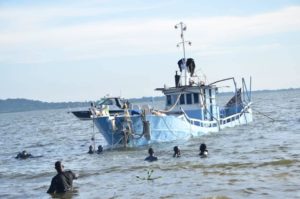 It is alleged that more than 100 people were on the ill-fated boat
A total of 27 people were rescued alive and have since ben interrogated by police.
Preliminary investigation show that the boat which capsized as it made its way from KK beach to K Palm Beach was overcrowded.
Government has since declared tomorrow, Friday as the day to mourn for the victims of this accident.