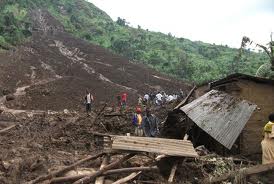 More people have been displaced by landslides in Bududa district.
The landslide that resulted from last evening's down pour has affected 193 households in Bumayoka Sub County.
According to the district Chairman John Baptist Nambeshe, the affected families have been asked to converge at the district headquarters where the distribution of tents is to take place.
Nambeshe however says so far the district disaster management committee only has 100 tents that remained after the 2010 disaster.
The latest landslides are said to have left an entire hill caved in leading to extensive loss of livestock and crops.
Bududa district was again hit by landslides on Saturday killing a four year old boy.
In 2010 the district was hit by a similar disaster that left atleast 50 people dead while thousands were left homeless.