The elections are now turning chaotic in different parts of Kampala and Wakiso due to an overwhelmingly delayed deployment of voting materials countrywide.
It's 12:00 noon, still no voting materials at Katuuso COU polling station. Check @amgodiva's face #UgandaDecides pic.twitter.com/CGwCnfiDWG

— Susan Mirembe (@Cell_met) February 18, 2016
At Kanga polling station in Entebbe municipality voting has not kicked off due to late delivery of voting materials.
At Kajjansi dispensary B, polling materials arrived in an NRM candidate's car causing suspicion.
Police fired in the air to disperse crowds that pounced on councilor Mubiru Balwana.
The voters accused the councilors of ballot stuffing in favor of parliamentary candidate Peter Sematimba.
Mutigwedembe polling station Makerere 11 Zone A, Voting started @ 12 :50 @chrisatuk #UgandaDecides pic.twitter.com/Yaj3xRmqAg

— Daily Monitor (@DailyMonitor) February 18, 2016
At Bulaga Mityana road, anti-riot police has been deployed to quell a strike started by voters.
The voters had chosen to sit in the middle of the road demanding that the voting exercise kicks off.
Police has deployed mamba and teargas trucks to calm the situation.
In Makindye Mubarak , a strike is also under way.
Police has heavily deployed at queen's way where voters turned rowdy over delays in delivery of polling materials.
A scuffle earlier on ensued in Kisenyi after the polling agents disagreed with polling officials on the distance they are meant to keep from the cordoned off area.
Those in polling stations without material, please don't give up, tell everyone at your polling stations to hang in there #UgandaDecides

— Irene Ikomu (@miss__rizzy) February 18, 2016
In Wabigalo zone here in Namuwongo, voters have also blocked 8th street industrial area. They have carried boulders and placed them in the middle of the road, they also carried carried the desks to be used by the polling officials and placed them in the middle of the road.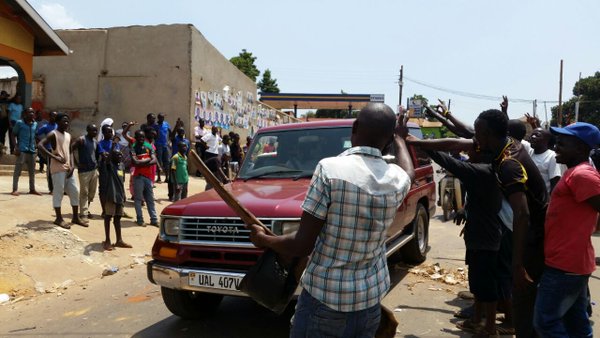 All vehicles have been blocked except and ambulance that passed a few moments ago.