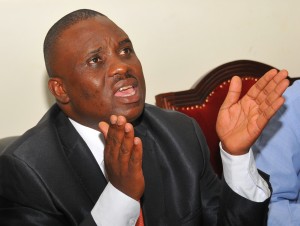 City Lord Mayor Erias Lukwago has summoned his deputy Sulaiman Kidandala over reports that he held a meeting with the inspector general of police.
Yesterday Kidandala refuted allegations that he solicited for a bribe fromGen Kaihura Kale  in a bid to oust Lukwago from office.
In the leaked recordings, a man purported to be Kidandala along with another unidentified man were discussing the political situation at KCCA with General Kaihura.
The unidentified man goes on to ask for money to help in containing the situation at the city hall.
However, speaking to journalists at his home in Wakaliga, Lukwago said that he has been greatly disturbed by the allegations of bribery brought against his Deputy.
He says government should also give its side of the story since its officials are involved in the recordings.