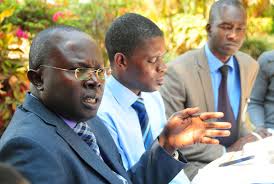 Makerere University lecturers are blaming their woes on politicians.
The chairman Makerere University Academic Staff Association says they have failed to resolve their pay concerns because the issue has been over politicized.
Speaking to journalists today Muhammed Kiggundu has explained that they are only asking for a 100% pay rise from internally generated revenue.
He adds that they are ready for negotiation but have not been approached by the university or the education ministry.
Responding to the president's advise to the striking lecturers, Kiggundu said they are ready to rear goats if given the means to do it.
President Yoweri  Museveni yesterday directed lecturers to resume work, or resort to rearing goats because there are no funds to meet their demands for a 100% salary rise.
The University remains closed following the lecturers' strike.