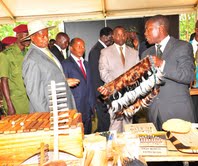 The ministry of Education maintains that funds under the student's loan scheme are not free.
The president yesterday rolled out the student's loan scheme with an aim of helping students from poor back grounds to access higher education.
Under the scheme, students will acquire the money and pay back in a year's time after getting jobs.
State minister for higher education, John Chrysestom Muyingo says that those who default will be prosecuted and this is clearly indicated in the forms to be filled by beneficiaries.
Meawnhile,education experts remain pessimistic as to whether the just launched student's Loan scheme will benefit the bright but disadvantaged students.
Education analyst Patrick Kaboyo says although the scheme is good, many disadvantaged students are likely to miss out due limited access to information about the fund.